From no-frills to cushy, cramped to roomy,
a hotel bathroom can be an oasis or an eyesore.
The reputation of a hotel can live or die on its bathrooms. It's considered an indicator of how upscale, current and clean a hotel is, an extension of its identity. Regardless of how your rooms are currently set up, we can design around your current layout, or offer up whatever your design team envisions. We can help you keep up. See Our Solid Surface Shower Bases.

Hospitality shower solutions
Tower Industries Solid Surfaces are safer and more sanitary than tile. See how we design our shower products to protect clients from fungus, parasites, bacteria, slipping and falling.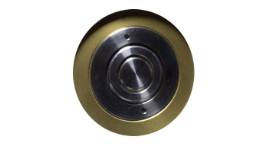 Ligature Resistant Drain Covers
The benefits of solid surface



Talk to a solid surface specialist
Tower Industries Solid Surface Showers from Tower Industries are completely tailored to your needs, so whether you need standard sizes for new health care facilities or you're looking for something more custom, reach out to discuss your project with a member of our team.