What is Solid Surface?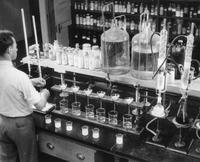 Research chemist at work in DuPont laboratory c1950
Solid surface is a man-made material originally invented by DuPont in 1957 and sold under the brand name Corian. Once the patent expired, several companies started making their own variations of the formula. A homogeneous blend of poly-acrylic or acrylic resins and natural mineral fillers, solid surface is a completely non-porous material that is resistant to stains and naturally does not support the growth of mold, mildew and harmful bacteria. It is completely solid, with the color and pattern going all the way through the product.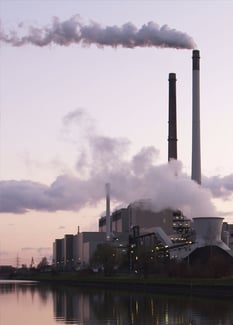 Coal-Fired Electric Plant
Matte finish is standard on most offerings, but gloss finishes are available. Regardless of the type of finish, there are no surface coatings to damage or disrupt. It also can come in almost any color imaginable, and can even mimic natural stone like quartz, granite and even marble. Since we are talking about showers, you should probably know that the lighter color you choose, the better off you will be. Dark and non-patterned colors tend to make soap scum more noticeable.
VOCs
Volatile Organic Compounds (VOCs) are an important item to consider but is often overlooked. VOCs are released from solvents, paints, glues, and other products that are used and stored at home and at work. They are also emitted from oil & gas fields, burning wood, coal or natural gas as well as diesel exhaust. In layman's terms, if left to harden naturally, it can take up to 90 days for the material to stop smelling, however oven-curing is an option that completely consumes free-radicals and virtually eliminates VOCs before it reaches the job site. Oven-curing is not available from all manufacturers, so it is important to ask.