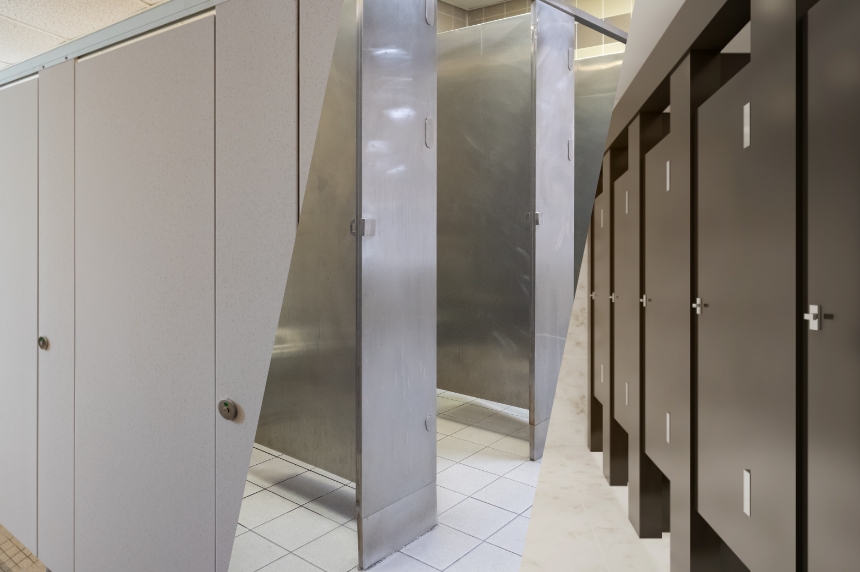 It's not every day that you're choosing toilet partitions, so we've made a simple guide to learn the difference between HDPE sheets, stainless steel and Meridian®️️️️ Solid Surface Toilet Partitions, manufactured by Tower Industries.
When it's time to choose the right toilet partition for your project, it's tempting to go with the cheapest price. But it's also important to consider durability and ongoing hygienic maintenance, in addition to the style and look of the privacy partition.
Stainless Steel Partitions
Material – Most stainless steel toilet partitions offer a lightweight, honeycomb core for added structure. As an alloy to iron, it has high durability.
Durability – Toilet partitions made of stainless steel are meant to withstand rust and corrosion, but ongoing humidity can damage the material. This type of bathroom partition material can withstand most wear and tear, but expect the scratches, stains and vandalism that come with time.
Hygienic Maintenance – Stainless steel is easy when it comes to cleaning, but it shows its share of fingerprints and smudges.
High-Density Polyethylene (HDPE) Panels
Material – High-density polyethylene is a multi-use plastic, made from petroleum. The material is often used to make plastic bottles, piping and composite wood. Large HDPE sheets are commonly used for toilet partitions.
Durability – While HDPE panels are known to be durable, its surface is not resistant to scratches or stains. It's also known to be flammable and sensitive to stress cracking.
Hygienic Maintenance – While HDPE claims to have antimicrobial properties, its surfaces tend to have a texture on them, which can harbor harmful bacteria. Contrary to stainless steel, HDPE is completely resistant to rust and corrosion.
Meridian®️️️️ Solid Surface
Material - Manufactured by Tower Industries, Meridian®️️️️ Solid Surface is a blend of polyester and acrylic resins with natural mineral fillers.

Doors and Panels – Our solid surface toilet partitions are designed with zero-gap panel intersections, for added privacy.

Durability - As the only truly solid surface in the industry, Meridian®️️️️ Solid Surface Toilet Partitions offer lasting durability, proven to hold up to wear and tear in all high traffic areas, including higher education, health care, hospitality and military settings.

Hygienic Maintenance – Meridian®️️️️ Solid Surface is a non-porous, easy-to-clean, antimicrobial solution. The NSF-certified material can be cleaned with a mild soap and water.

Installation – When it comes to toilet partitions, Meridian®️️️️ Solid Surface offers the easiest installation on the market.
Why Tower Industries?
With more than 25 years of experience, Tower Industries is a leading solid surface manufacturer. As a family-owned business, you can trust us to get the job done and get it done right. Our proven and trusted sales process ensures your project, no matter what size, will be a successful.
Quality
We know that materials matter, so at Tower Industries, we use Meridian®️️️️ Solid Surface, a product that is truly solid. We take pride in manufacturing premium products that you won't find in a big box store.
On-Time Deliveries
We know the importance of meeting deadlines and are committed to timely deliveries so that you can keep your project moving forward.
Custom
We work closely with our customers at every stage of the process to make sure that each toilet partition fits according to the plan.
American-Made
When you purchase from Tower Industries, you support the U.S. economy and give jobs to hardworking families in the states. Additionally, when your products are made in America, it cuts down on the carbon footprint of manufacturing and transportation.
Start Your Solid Surface Toilet Partition Project
Contact us to learn more about how Tower Industries can help you reach your project's goals on time and on budget.