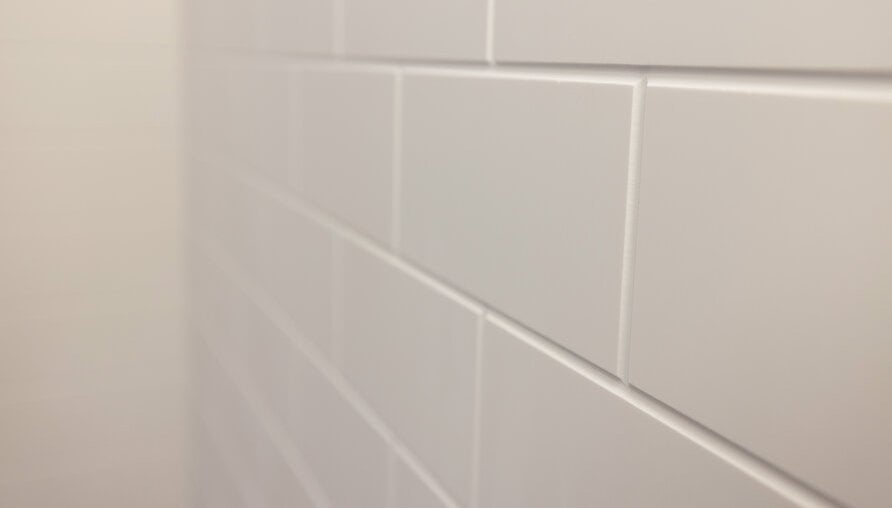 How Solid Surface Showers Reduced Construction Disruption for Families
Nationwide Reality invests heavily in real estate in downtown Columbus. Learn how Tower Industries earned the trust of Nationwide Reality. Working together, they solved their shower problem with solid surface tile wall panels, an alternative to shower tile.
Problem
In 2021, Nationwide Reality had 220 apartments, each with 10-year-old shower units. The fiberglass showers were failing. Nationwide needed to replace their showers with a better solution.
They built a tile prototype but weren't happy about the challenges they faced:
Major Disruption
Tile was a 3- to 4-day project and would significantly disrupt tenant's life. Annual tile and grout maintenance required even more disruption for the tenants.
High Labor Costs
Tile had become impractical to use, due to the rising cost of skilled labor and its lengthy installation process.
Solution
Nationwide Real Estate contacted Tower Industries to help solve their problem. Tower is trusted by building experts across the country.
After listening to their needs, Tower built a prototype as an alternative to tile in showers that included:
Elevated Quality
Tower Industries built an elevated tile alternative that looked and felt like tile. The Meridian®️️️️ Solid Surface shower panels matched the building quality and aesthetic.
Maintenance-Free
Meridian®️️️️ Solid Surface shower panels have no long-term maintenance. This meant no maintenance costs and no disruption for annual maintenance.
But here's the real deal: Tower promised a full-shower install in just one day.
Minimal Disruption
A one-day shower install meant that tenants were hardly disrupted. At 9 am, Tower Industries removes the failing fiberglass shower and by 5 pm, the shower is fully replaced with a beautiful, new Meridian®️️️️ Solid Surface tile patterned shower. It could be done within a workday and didn't require the tenant to shower elsewhere.
As a result, Nationwide chose Tower Industries to replace all 220 showers with Meridian®️️️️ Solid Surface shower bases and wall panels, for an elevated tile alternative.
Impact
8 Hours – The number of hours it takes to replace and install a shower with Meridian®️️️️ Solid Surface material.
220 – The number of shower units Tower Industries replaced at the apartment complex, Flats on Vine.
15 Years – Each solid surface material from Tower Industries comes with a 15-year limited warranty. Most tile companies only have a 1-year warranty.
Meridian®️️️️ Solid Surface Materials
Tower Industries makes custom, Meridian®️️️️ Solid Surface in Massillon, Ohio. In addition to solid surface showers and bases, they also provide wall and toilet partitions and countertops for building projects in the following industries:
Healthcare
Hospitality
Higher education
Military and government
Tell us about your project
Are you an architect, builder, or contractor? Learn more about how Meridian®️️️️ Solid Surface showers can save you time and minimize disruption during your next shower project.