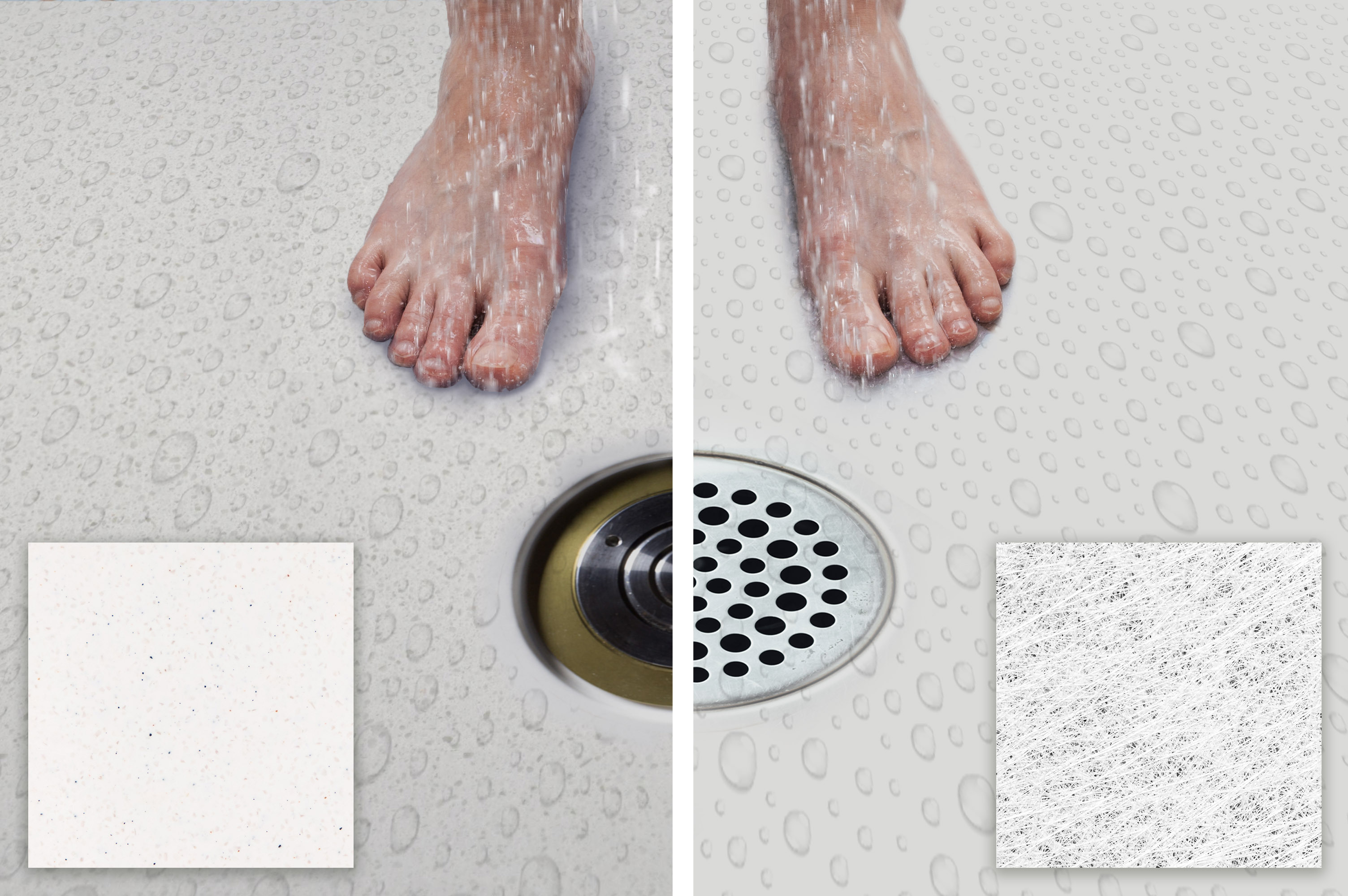 Many companies claim to offer solid surface shower bases, but not all "solid surface" products are created equal. Many are fiber-impregnated materials. Others are compression molded. Some are treated with a thin layer of solid surface coating. To us, none of those products are truly solid surface. Read on to learn why.
A stricter standard for solid surface
At Tower Industries, we believe solid surface is a homogenous blend of polymer resins, mineral fillers and pigments. That means the Tower Industries shower base is exactly the same from top to bottom. There is no surface coating and there is nothing to disrupt because the product makeup is consistent throughout. While other products claim to be solid surface, the primary challenge we make is that they're not homogenous. They are not exactly the same all the way through.
Surface coatings are not solid surface
A common material that claims to be solid surface but doesn't stand up to our definition is a fiber-impregnated composite. Fiber-impregnated products are made from chopped pieces of glass fiber blended with resin and topped with a surface coating. They call it solid surface because the material that you come in contact with is sprayed-on, topically-applied solid surface. But it's a very thin coating that is backed up by fiberglass. If you wear through that initial layer, you get into a patchwork of glass fibers – glass fibers that will wick water and allow mold and bacteria to grow over time. With Tower Industries Solid Surface, there is no layering. There are no fibers, and you will never wear through any surface coating because there is no surface coating. Simply put, Tower Industries Solid Surface Shower Bases are comprised of the best shower base materials from top to bottom, so they are a true solid surface.
Compression molded is not solid surface
Some solid surface alternatives are compression-molded, fiber-impregnated materials. These products are molded with intense pressure and filled with glass fibers. If we were to hand you the cutaway from a compression-molded shower base, and we were to hand you the same size cutaway from our solid surface shower base, our shower base would weigh about ten times more. That's because we use a homogenous blend of resin and naturally occurring minerals in a dense cast shape. When you place our product in your hands, you immediately realize it is substantial. It simply feels solid. If you pick up compression-molded products, you may wonder how it could support someone standing on it.
The advantages of true solid surface
There are major benefits to true, cast solid surface shower bases. Products that are not compression molded. Products that are not layered. Products where a thin layer of solid surface is not sprayed on. Products that are not assembled from multiple pieces glued together.
Solid surface is customizable
When you're working with so-called or self-proclaimed solid surface products, most are one-size-fits-all. If you need a 3-foot-by-3-foot unit, and you need the drain in the corner, you're not likely to be able to get a competitor's products to work because the drain will be in the center. Tower Industries Solid Surface allows for full customization, so you get the size you want and the drain placement you want. If you have a project where half of the units fit a standard option and the other half do not, you need a custom product. With Tower Industries Solid Surface, your shower bases are designed to fit the space, with continuity across the project.
Solid surface is easier to repair
Layered, non-homogenous products are very difficult to repair. If you break through the surface coating, you get into the glass fiber layer, which is tricky to fix. Tower Industries Solid Surface bases are one-piece cast units that are void of seams, joints and other possible failure points. If you chip them, scratch them or gouge them, all you have to do is buff imperfections away with light sanding.
Start your solid surface project
If you're ready to get started with durable, substantial, easily maintainable solid surface shower bases, contact the experienced team at Tower Industries today.