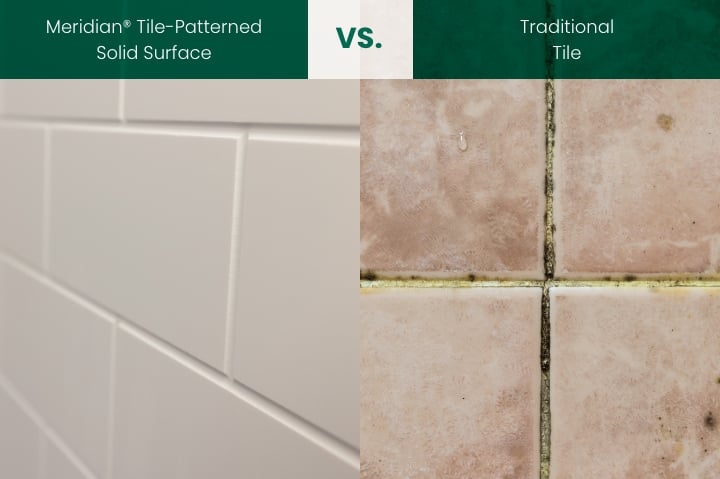 How Meridian®️️️️

Tile

-

Patterned

Shower Walls

Helped a Premier Contracting Firm
Homestead Construction is a premier contracting firm in Columbus, Ohio. Find out what challenges they faced and how Tower Industries manufactured a solid surface solution with grout-free Meridian®️️️️ shower walls in a tile pattern.
Problem
In 2022, the nation faced a shortage in skilled labor and an increase in labor cost. Homestead Construction felt the pain of a changing economic landscape. The one thing that didn't change was the time it took to complete a tile project. These factors presented real challenges for their business.
Available Labor
Building projects for home and businesses were on the rise, but skilled labor was hard to find.
Labor Costs
A scarcity of skilled labor meant that workers had the power to name their wage. The wages increased.
Speed
Tile projects are time intensive. Workers needed to set, grout and seal the tile. And each step depended on labor that was hard to find and expensive to retain.
Solution
Finally, Dave Anderson called Tower Industries to see what they could do. "I know you make solid surface wall panels," he asked. "But can you make them look like tile?"
The simple answer: yes.
Meridian®️️️️ Solid Surface wall panels can be manufactured with a grout-free tile pattern. Tower Industries manufactured 40,000 square feet of solid surface wall panels with the appearance of tile.
This helped the construction company:
Save Time
Traditional tile projects have more steps that take a lot of patience and time. A single Meridian®️️️️ tile-patterned solid surface wall can be installed quickly, without the need to wait for grout or sealer to dry.
Save on Labor Costs
Meridian®️️️️ Solid surface wall panels from Tower Industries can cover an entire wall and be installed by carpenters in one hour. This saves an average of 6 hours of skilled labor costs.
Save on Maintenance
Meridian®️️️️ Solid Surface is easy to clean, non-porous and durable. Compared to traditional tile with grout, solid surface wall panels are easy to maintain. There's no need to seal, repair, or clean stained grout. Meridian®️️️️ Solid Surface walls in a tile pattern make maintenance easy.
Impact
6 Hours – The number of skilled labor hours it takes to install tile on a shower wall.
1 Hour – The average time it takes to install a Meridian®️️️️ tile-patterned wall panel that covers an entire shower wall.
15 Years – Each solid surface product manufactured Tower Industries comes with a 15-year limited warranty. Most tile companies only have a 1-year warranty.
Customizable Solid Surface Materials
Tower Industries manufactures customizable Meridian®️️️️ Solid Surface in Massillon, Ohio. In addition to solid surface showers and bases, they also provide wall and toilet partitions and countertops for building projects in the following industries:
Healthcare
Hospitality
Higher education
Military and government

Multi-family housing

Other commercial space
Tell us about your project
Are you an architect, builder or contractor? Learn more about how Meridian®️️️️ Solid Surface showers can save you time and money on installation costs on your next building project.