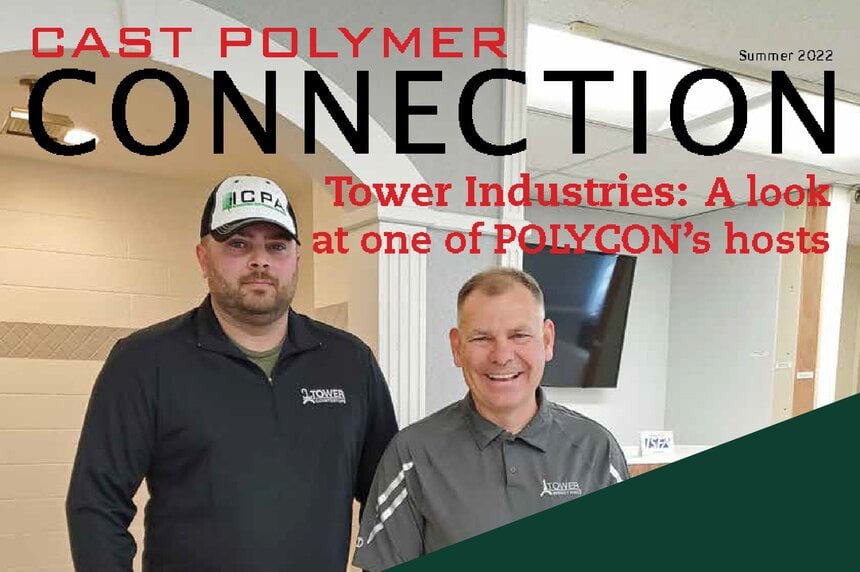 Subscribers of the industry standard Cast Polymer Connection magazine will notice Tower Industries on the cover of the Summer 2022 edition as one of POLYCON's hosts this year. ReBecca Erdmann, president of the International Cast Polymer Association, called Tower's story "truly inspirational" in her President's Letter which kicked off the issue.
In the cover story, Tower co-founder Todd Werstler details the path to success of Tower Industries, which began in 1995 as a business partnership between Todd and his father, Bob Werstler. From the start, Todd says, Tower was "truly a family business," with time, effort and money contributed by his parents as well as himself.
But the dream paid off. In the intervening decades, Tower has capitalized on its market success, leaning in stronger than ever on its core values: "We are kind; we take initiative; we get it done; we make it right; we are humble; and we are enthusiastic."
Today, Tower Industries continues to serve commercial and industrial applications with its proprietary material, Meridian®️️️️ Solid Surface. POLYCON attendees will be able to witness the operations on the factory floor during tours, including Tower's automated fabrication systems.
Read the Tower cover story in the digital archive of Cast Polymer Connection (as well as a spotlight in the Spring 2022 edition), and don't miss POLYCON 2022 at the DoubleTree by Hilton Canton, Sept. 19-21, 2022.
Looking for a solid surface company that delivers on every promise? That's Tower—and has been since 1995. Talk to the team at Tower to see how we can help you create the solid surface solutions you're looking for.