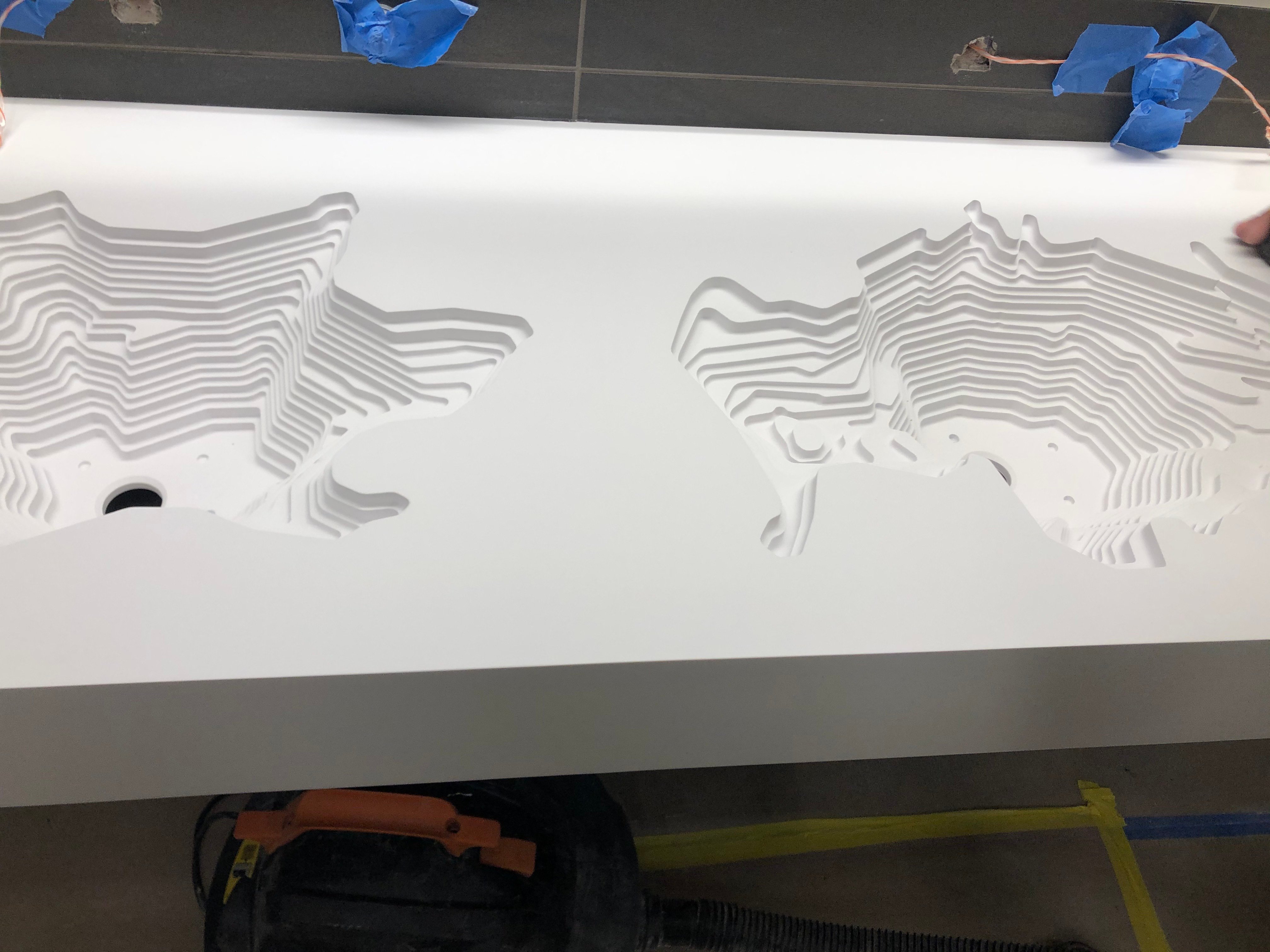 "Tower Industries performed perfectly for us. They worked handsomely with everyone involved on our side. We wouldn't hesitate to go back for anything requiring completely custom solid surface." – Anton Cabinetry
When a learning center in Dallas, Texas, wanted to upgrade the trough-style sinks in their public restrooms, they wanted to implement a unique design. They originally engineered a topographical representation of the Grand Canyon using about 14 layers of half-inch solid surface material.
Shortly after being installed, the custom sinks succumbed to the weight of more than a dozen layers of material and failed. Anton Cabinetry—the design company working with the education facility—began searching for someone who could pour solid surface countertops. That's when Tower Industries was brought in.
Challenges
After joining the project, we recognized a few challenges beyond the initial issue of weight. First, Dallas has multiple water sources, which creates mineral deposits. Since the design uses a step-like effect to create the details of the Grand Canyon topography, there was a chance sediment could get stuck within the surface, making it hard to clean.
Another issue was the engineering design of the custom solid surface countertops compared to the build of the restroom. The plans mapped out the sink's countertop sliding underneath the tile work and going between walls. We knew we could improve upon that design.
Solutions
Once we were given the CAD files, we were able to manipulate the drawings to create custom Tower Industries Solid Surface countertops. Slight modifications helped us optimize shapes in the design and combat the need for the sink to slide under tiles. Instead, we designed it so no tiles had to be removed, saving time and money for the overall project.
Using this method—instead of layers of solid surface—we poured solid surface material to create one lighter-weight piece for each sink. And, since solid surface is non-porous, the learning center doesn't have to worry about it being hard to clean. Issues with mineral deposits would be comparable to a stainless steel or marble sink.
Results
Even though the sinks haven't yet seen a lot of use due to COVID-19 pandemic-related closures, we expect the solid surface to hold up. As a one-piece cast unit, the amount of issues a sink would usually face drastically decrease. For example, bacteria, mold and mildew can't grow on the non-porous surface.
One issue the learning center could face is with drain maintenance. Because of the trough sink design, a piece needs to be removed to access the drain. However, this was part of the original design that Tower Industries inherited when we were brought on, and it shouldn't cause too big of a problem if and when the time comes.
We strived to work seamlessly with everyone involved in the project, from the framer to the sheet rocker to the company installing the flooring tile. Anton Cabinetry confirmed that this approach made a big difference.
Overall, they were thrilled with our customer service and our ability to make custom designs. Anton said: "Tower Industries can do anything you want with solid surface. At Anton, we have done custom projects for more than 40 years. That's what Tower does, too, but they do the unusual. They take on the seemingly impossible project, and they make it happen with solid surface."
Are you ready to get started?
At Tower Industries, we understand the complications behind unique designs. We can work with you to engineer a solid surface countertop that will meet—if not exceed—your standards and impress your clients.
Anton Cabinetry explains that if you're considering working with Tower, it's worth the time and effort. "We wish we could turn back the clock and revisit previous one-time projects now that we know about Tower Industries. It's great to have a partner that also does custom and can help us solve problems for our customers."
If you'd like to work with us on a custom Tower Industries Solid Surface countertop or unique design, talk to a solid surface specialist today.