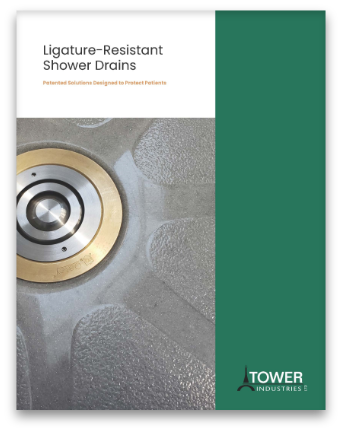 It is a fact of caring for patients in behavioral health treatment that there is a risk that a patient may commit an act of self-harm.
These risks are even more present in showers and other bathroom facilities, where plumbing fixtures such as pipes and shower heads can be used to tie off a ligature.
But there is a solution that addresses this urgent need, and you can learn more about it in our latest e-book.
Tower's Patented Shower Drain Solution
Tower Industries has engineered an innovative solution to address patient safety with our patented ligature-resistant shower drains.
Crafted of precision-machined steel and featuring a unique, beveled-edge concentric circle design, these drains prevent a patient from tying off a ligature or using the drain as a hinge point. Functional flow is maintained, too, with water discharge permitted at upwards of 5 gallons per minute. Pooling water is eliminated, and the drains install easily in existing solid surface shower bases.
Ligature-Resistant Shower Drains E-book
To help our customers in the healthcare market, we've created an in-depth e-book that explores the ways Tower's ligature-resistant shower drains can help patient treatment facilities secure better outcomes for patients.
You will learn more about the risks associated with shower accessories and other common plumbing fixtures, including why other manufacturers' products still don't solve the problem of hinge points and tie offs.
You will also learn how Tower's innovative design allows you to seamlessly integrate this elegant solution into existing solid surface showers or all-new shower base installations. Despite the complexity of retrofitting existing shower areas or installing new ones, Tower makes it simple to create safer spaces using our patented drains and solid surface showers.
Plus, see customer success stories and hear from Tower CEO Todd Werstler on his personal commitment to patient safety.
When you download your e-book, you'll learn how you can add this efficient tool for reducing the risk of patient self-harm to your facility.
Download Your Copy
See how Tower's innovative ligature-resistant drains prevent unwanted outcomes in patient showers while still maintaining privacy, efficiency, and functional flow. Download your copy today and contact the solid surface experts at Tower when it's time to complete your next project.