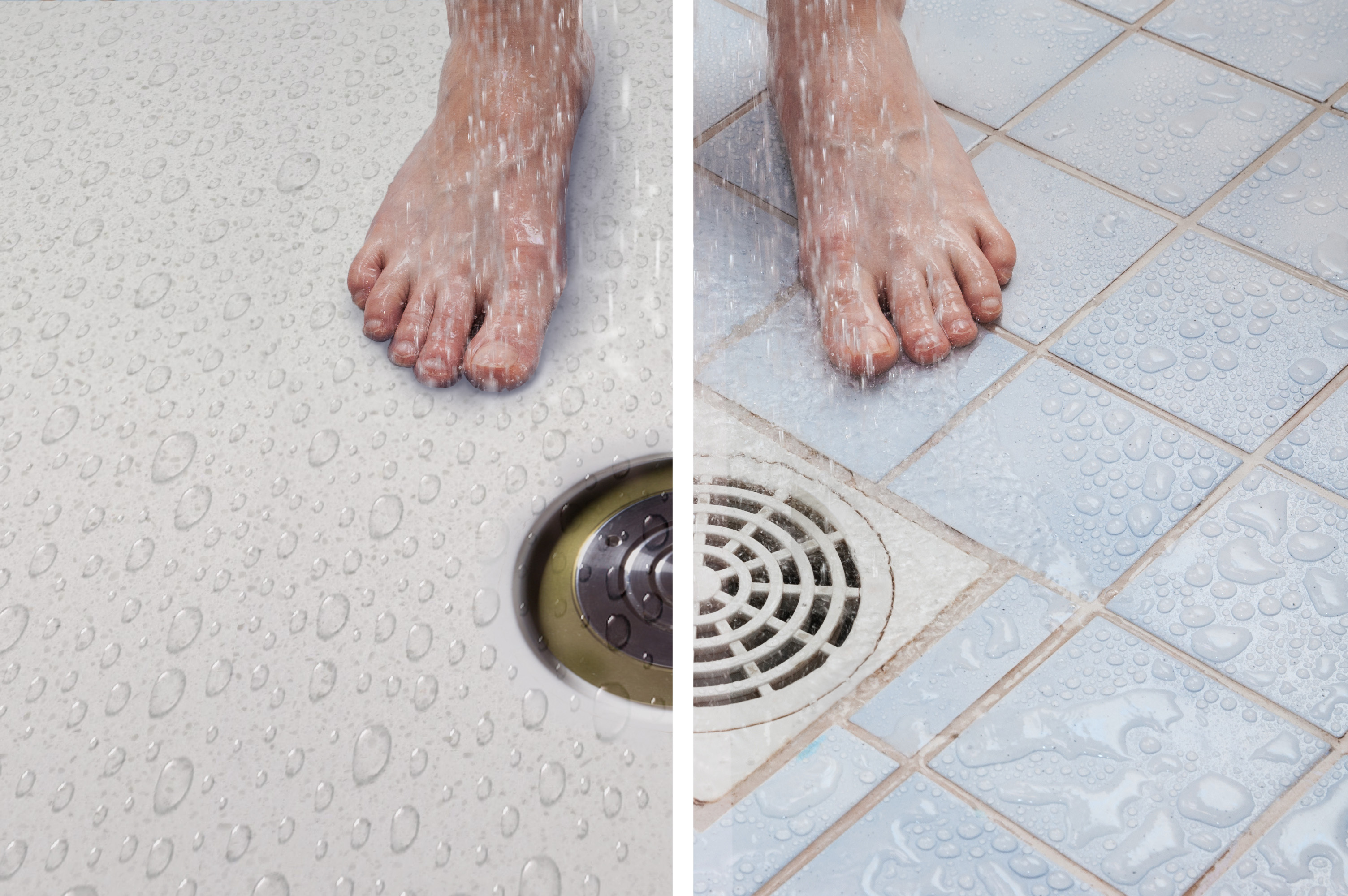 Are you planning a commercial shower installation? Are you unsure if solid surface or tile is the right fit for your application? If so, you've come to the right place.
While tile has its advantages in terms of aesthetic options, there is truly no comparison when it comes to durability or performance.
In this blog post, we explore the head-to-head benefits of solid surface versus its leading competitor, tile. Continue reading to discover which material is right for you.
Which is more durable?
We're glad you asked. Tile shower bases are porous and more prone to leaks. It's incredibly frustrating to see a stream of water coming through the ceiling below your showers, and with tile, that's a much more likely reality. Because of the homogenous nature of solid surface, it's not as likely to leak over time. You can enjoy peace of mind knowing the water in your facility will stay where it should be – in the shower.
Winner: solid surface
Which is more sanitary?
Because grout is used to affix tiles, over time, there is inevitable breakdown. As the grout deteriorates, bacteria, mold and mildew can form, creating a not-so-clean shower environment. Solid surface has no seams or grout lines, so there is nowhere for bacteria to take hold.
Especially If you are sourcing material for showers in a health care facility, there is no material more sanitary than Meridian®️️️️ Solid Surface.
Winner: solid surface
Which is easier to maintain?
When tile experiences wear and tear, the results are broken down grout, falling tiles and festering mold. If you start to notice any of these signs of wear, you'll need to retile your project or suffer the health and safety consequences. Solid surface showers are renewable, so they are easier to maintain. When solid surface is scratched, it can be restored with light sanding.
Winner: solid surface
Which is quicker to install?
If you're on a tight project timeline, you can't beat the speed and convenience of solid surface. Because it comes in a single piece, solid surface showers go in easily, saving you time and installation headaches. Tile installation is a much more manual and delicate process with elevated risks for damage and product loss.
Winner: solid surface
Which is more customizable?
Both tile and solid surface showers are completely customizable. While you can achieve the exact look and feel you're looking for with the flexibility of tile, Tower Industries has multiple mold sizes to meet your unique needs and specifications. Other solid surface shower companies may offer you off-the-shelf solutions, but with Tower Industries, your entire project will be custom made.
Winner: draw
Which is more solid?
By far, solid surface is more solid than a shower comprised of tile and grout. At Tower Industries, our Meridian®️️️️ Solid Surface Shower Bases and shower wall panels are 100 percent cured and homogenous, so they are solid to the core. It's important to remember, not all solid surfaces are created equal.Some solid surface companies laminate their shower bases together out of half-inch sheets, while Tower produces one-piece cast units.
Before you choose solid surface, make sure you're working with a trusted supplier for a customized solution that meets your needs.
Winner: solid surface
Which has less waste?
With solid surface showers, shower parts are cast to the size you need, so there's very little cutoff or waste. Contrary to the water-dependent process used to cut tile, water use is more sparing in solid surface production, so there is less water waste as well. When compared head-to-head with tile, solid surface is the more environmentally friendly choice.
Winner: solid surface
Which comes with better customer experience?
We can't speak for all solid surface companies, but when you work with Tower Industries, you're working directly with the manufacturer. There is no downtime waiting for distributors, like you might experience when ordering tile. We offer an industry-leading 15-year warranty and one-source accountability, which means a familiar voice on the other end of the phone, faster lead times and more customization capabilities.
Winner: solid surface
Which is the better investment?
While tile may have a lower price tag up front, there is no doubt that solid surface is the better investment in the long run. During the lifetime of your Meridian®️️️️ Solid Surface Shower, you'd likely have to replace your tile 2, 3 or even 4 times. With solid surface, you'll save significantly in the long term, not only in dollars and cents but also in maintenance headaches, repairs and daily cleaning.
Winner: solid surface
Ready to get started?
Partner with Tower Industries
Whether you're starting a new construction or upgrading your existing tile showers, reach out to an experienced member of our team to get started or get more information about solid surface showers.
Learn how solid surface showers helped Homestead Construction save time and labor costs.